Traverse Theatre Company: Ulster American returns for a strictly limited run in Spring 2019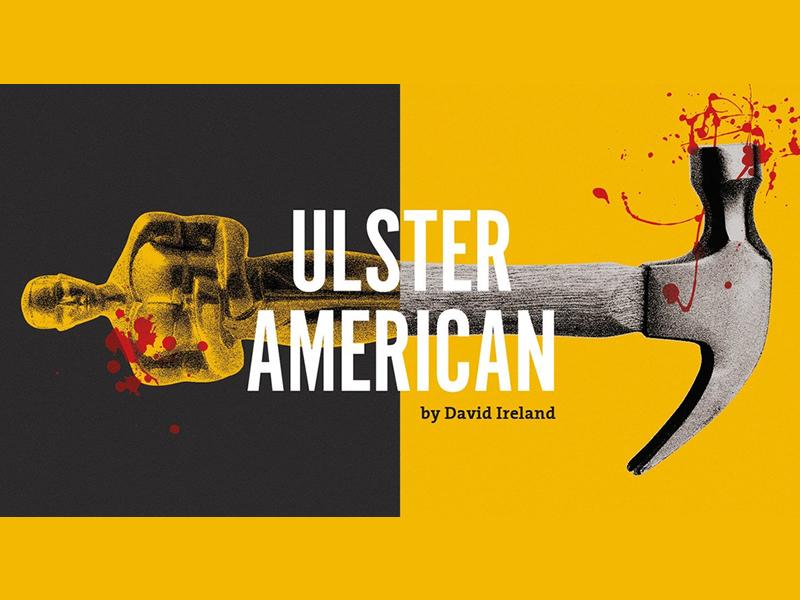 Following a sold-out world premiere run as part of Traverse Festival 2018, one of the most talked-about shows of the Edinburgh Fringe, Ulster American, is set to return for a strictly limited run.
THE MOST TALKED-ABOUT SHOW OF THIS YEAR'S FESTIVAL, TRAVERSE THEATRE COMPANY'S ULSTER AMERICAN RETURNS FOR A STRICTLY LIMITED RUN IN SPRING 2019

• David Ireland's explosive black comedy, exploring abuses of power, cultural identity and gender politics returns to the Traverse due to overwhelming audience demand

• Winner of the Carol Tambor Best of Edinburgh award and a Scotsman Fringe First award

• Tickets on sale now

Following a sold-out world premiere run as part of Traverse Festival 2018, one of the most talked-about shows of the Edinburgh Festival Fringe, Ulster American – a Traverse Theatre Company production – is set to return to the Traverse for a strictly limited run of 11 performances from 20 February-2 March 2019. These are currently the only planned Scottish dates for the show in 2019.

Written by David Ireland, whose most recent play Cyprus Avenue won the James Tait Black Award 2017 and Best Play at the Irish Times Theatre Awards 2017, Ulster American explores abuses of power, the confusion of cultural identity and the silencing of the female voice in a confrontational and brutally funny way. It's a black comedy that's definitely – and defiantly – not for the faint of heart, and had audiences queuing for hours in hopes of securing a return ticket.

The return of this much-praised triple-hander will see the original cast reprise their roles. Jay (Darrell D'Silva) is the Oscar-winning actor taking the lead in a new play that connects with his Irish roots. Leigh (Robert Jack) is the ambitious director who will do anything to get noticed. And Ruth (Lucianne McEvoy) is the Northern Irish playwright whose voice must be heard. The stage is set for great success, but when the three meet to discuss the play's challenges and provocations a line is crossed, and the heated discussion quickly escalates to a violent climax. Directed by Traverse Associate Director Gareth Nicholls (How to Disappear, Arctic Oil, Letters to Morrissey).

The production received a swathe of five-star reviews and incited lively debate amongst critics, with The Guardian calling it an 'immaculately paced production' that 'brilliantly captures the bewilderment of a generation that knows the rules of social engagement have changed', while The Times praised it as having 'the energy of a bullfight' and The List hailed it as 'a timely reminder that the expiry date for showbiz misogyny passed a long time ago'.

In addition, it received a Scotsman Fringe First Award, a Carol Tambor Best of Edinburgh Award (with an attached prize fund to facilitate a New York transfer), and a Scottish Arts Club Award shortlist.
We are also excited to reveal that, following its return run at the Traverse, Ulster American will head out on an international tour. More details to follow.

David Ireland, Writer, says:
'When I first wrote Ulster American I didn't think anyone would produce it, let alone come and see it. I'm surprised and delighted that the response to it was so positive at the Traverse Festival 2018. It's largely thanks to the terrific work done by Director Gareth Nicholls and our fantastic cast, as well as everyone at the Traverse Theatre who had the courage and the foresight to embrace this troubling, unnerving, disgraceful burlesque.'

Gareth Nicholls, Director (and Traverse Associate Director), says:
'I'm delighted that Ulster American is coming back to the Traverse Theatre before travelling further afield. The reception it got during its sell-out run at the Traverse Festival 2018 was quite remarkable, as audiences and critics alike responded overwhelmingly positively to its brutal and satirical take on the abuse of power in the entertainment industry.
I was thrilled that so many people connected with David Ireland's blistering comedy, as it touches on themes such as identity and gender politics – themes that are absolutely at the forefront of peoples' minds, both politically and socially, with no sign of abating. It will be fascinating to see if audiences around the world respond to the play (and its stellar cast) with the same energy and passion as they did during the summer. It's an exciting prospect and one that I can't wait to get working on again.'

Wed 20 Feb-Sat 2 Mar, 2019
Tickets on sale now: 0131 228 1404 and online: here

Last Updated: 18 October 2018 15:00
Latest Local News
Sponsored Links
Popular Events
Edinburgh's free volunteer-run music & community Meadows Festival returns on the 1st and 2nd June 2019.
The Edinburgh Craft Beer Festival returns on 24th and 25th May with a world class line-up of breweries, headline music acts and Scotland's finest street food.
Oor Wullie's BIG Bucket trail will be taking to the streets of Edinburgh this summer with life-size, individually decorated Oor Wullie sculptures waiting to be discovered, for everyone to enjoy!
Lost at Sea journeys through a labyrinth of myth and memory in a lyrical and powerfully evocative story of a North-East fishing family.
Work from a diverse range of photographers will be on display at this free photography exhibition at Gallery Close from 15th May.
Advertise With Us
Looking to reach new customers? We offer a variety of advertising options with prices starting from just £30 per month!